---
---
| | |
| --- | --- |
| | Anne Marie offers a variety of lesson options for every skill level and budget. |
| | You can now book your lessons online in just a few easy clicks. Schedule your lesson today. |
| | We invite you to come to one of the many clinics offered throughout the year. |
| | Give the gift of golf for that someone in your life looking to improve their game. |
| | View a small collection of Anne Marie's articles. |
| | View a collection of Etiquette and Rules videos. |
Named one of the LPGA Top 50 Instructors every year since 2017.
Member of both the LPGA Teaching and Club Professional Division and the PGA of America
Named 2015 LPGA Southeast Teacher of the Year
Nominated for the LPGA Nancy Lopez Achievement Award and the Junior Golf Leadership Award
Assistant Director of LPGA-USGA Girls Golf Club of Oak Valley
Former Executive Director of The First Tee of the Triad
Awarded a golf scholarship to play for Wake Forest University
Graduated from Wake Forest with a BA in Communications, History Minor
Top 10 finish at Pat Bradley College Invitational
Played 12 years professional golf on the Futures Tour, Central FL Challenge Tour, Atlantic Coast Golf Tour and Golfer's Developmental Tour
Qualified for National Pub Links Championship, Women's Eastern, Women's Western, and four USGA Junior Girls Championships
Anne Marie began playing golf at a young age. She won her first state tournament at age 10 and won the National Junior Invitational at age 15. Anne Marie played in three Pub Links Championships, and has won several junior and amateur events.

She was awarded a golf scholarship at Wake Forest University, where she won Most Improved Varsity Golfer two years in a row. Anne Marie graduated in 1990 and began her professional golf career.

She has been a money winner on the Futures Tour, the Golfers Developmental Tour, the Florida Central Challenge Tour, and in 2007, Anne Marie was the only woman playing on the Atlantic Coast Golf Tour for men.

Anne Marie has instructed over 60,000 students from over 43 states and 9 countries. She has worked with golfers of every skill level, from beginners to golf professionals. Anne Marie has helped more than 40 kids receive golf scholarships. She has conducted corporate team building clinics for many area companies. Anne Marie was named the Teaching Professional at Greensboro Country Club in January 2019.

Anne Marie traveled to Italy to celebrate her sister's 50th birthday. She was able to see the sculpture, "David" in person!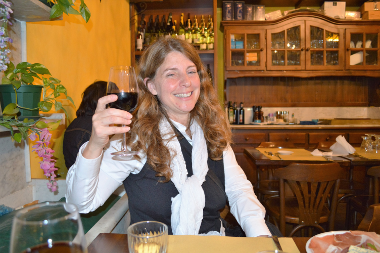 Visit www.trips2Italy.com or call 1-866-464-8259 to plan your dream trip! Anne Marie HIGHLY recommends them.
Michelangelo/Teaching Philosophy
It has been said that Michelangelo saw a large stone, on the side of the road. Many people passed it by, thinking the stone had no potential, but Michelangelo saw something else. He saw one of his greatest masterpieces, the sculpture of David.
When asked, "How did you make this?" he replied, "I looked inside the stone and saw the true David. I simply took everything that was NOT David away."
When I teach, I see the golf swing you could have if only we took a few things away. I see your potential and craft a plan to help you achieve that reality.
When you leave a lesson, you will know What to work on, Why to work on it, and most importantly How to practice. If you do the drills and practice the way I advise, you can build a swing that lowers your scores and increases your enjoyment of the game.
I work with students of all ages. My youngest student was 3 yrs old. My oldest is 84 and counting. I do tend to specialize in working with children who wish to play competitive golf in college. I present a total improvement program which includes swing fundamentals, short game skills, mental focus, visualization, on course training, and competitive preparation.
Over 40 of my students have been awarded golf scholarships to schools such as Princeton, Auburn, Wake Forest, University of North Carolina Chapel Hill, Appalachian State University and more. Former students have gone on to play in PGA and LPGA Tour events, as well as the USGA US Open and Senior Open.
People have asked me if I like working better with beginners or more advanced players like my mini tour players. I can honestly say I enjoy both. I am in awe of the power a pro can generate when they get their swing grooved, and I still get a thrill when I get to see a beginner hit the ball in the air for the first time ever. Teaching is more than a job. It is a passion. Some people get up in the morning and make sales calls, others make cars. I make golf swings. It is a beautiful thing."
"I've taken golf instructions from several different pros over the years. Your are TOPS! Your have a wonderful, caring manner with your precise intruction. You are most encouraging to the struggling golfers! That means so much! Keep up the great work"
- Carol, High Point, NC
"I drive past six or more other golf professional to get to a lesson with Anne Marie. I find her to be efficient and effective. In one lesson with Anne Marie, I learned more than I had in all my years playing golf."
- Eric M. Charlotte, NC
"Anne Marie helped me to change my handicap from a 30 to a 17 in one season. In the beginning, I thought her drills were kind of boring, but I did them every day, like she said. She knows what she's talking about. My next goal is to get to a 10 handicap. With her help, I think I can make it."
- Carol P. Winston-Salem.
"I am 9 ½ years old. My dad tried to teach me but that was not fun for either one of us. Anne Marie showed me some games I could play to get better and I did. Now I am the best golfer in my family. I hope to play in tournaments this year and win trophies."
- Tommy W. Greensboro, NC
"In the last year, Anne Marie has helped me to take my scoring average from a 71 to a 67. She worked with me on course management, and especially the mental game. I played well in college, but realized to achieve my goal of playing on the Nationwide Tour, I had to take it to another level. She has created a three year plan to help me be the best I can be. I have taken lessons from a lot of high dollar teaching pros you might see on the Golf Channel. Anne Marie not only has the talent to teach. She has the heart too. "
- Jacob R. Roanoke, VA