Anne Marie offers a variety of lesson options for every skill level and budget.

You can now book your lessons online in just a few easy clicks. Schedule your lesson today.

We invite you to come to one of the many clinics offered throughout the year.

Give the gift of golf for that someone in your life looking to improve their game.

Share your golfing accomplishments with us.

View a small collection of Anne Marie's articles.

View a collection of Etiquette and Rules videos.

Kellan Bodenheimer, from Winston Salem, NC

Kellan is a 14 year old super star on the rise. When I first started working with Kellan, he showed a lot of natural talent, but lacked the fundamentals to be consistent under pressure. With the goal of becoming a competitive golfer, we needed to reduce the extra movements in Kellan's swing, and make it more repeatable under pressure.

In less than a year, Kellan improved his putting stroke, short game, swing plane and course management. I was most proud of him for controlling his emotions. It's not an easy feat for a young man, but Kellan took my advice on positive self talk and visualization during a pre shot routine. Last year, he dropped his scoring average by 9 and won numerous trophies. Kellan Bodenheimer has great potential to go all the way. Thank you, Kellan, for giving me a chance to work with you in 2012.

Share your golfing highlights with me so I can post them here. I am proud of your accomplishments and I want to brag about YOU!
---
March 3, 2013
Tarheel Golf Foundation Tournament
Congratulations to Aaron Purviance for winning the Tarheel Golf Foundation Tournament at Grandover Resort.
Aaron shot 73-73 in some pretty cold temps to bring home the trophy. This is Aaron's first win of 2013, but I guarantee it will not be his last!
---
Mason Orr shot 68 this weekend, despite the windy and cold conditions. Super round, Mason!
---
February 26, 2013
Auburn Scholarship
Ben Schlottman has accepted a scholarship to Auburn.
---
December 19, 2012
Purdue University Coaches Championship
Anne Marie would like to congratulate Philip Kelley for finishing 3rd at the Coaches Championship and Academy hosted by Purdue University in Fort Lauderdale, FL.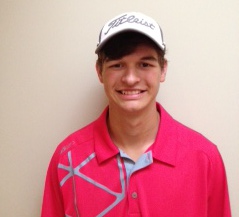 Philip shot 76, 78, 73. Well done!!!
---
September 19th, 2012
NC Junior Golf Foundation tournament champion!
Congratulations to Eric Mitchell, who won the NC Junior Golf Foundation tournament.
Eric won in dramatic fashion, going Par-Birdie to defeat two other players. Way to dig, Eric!
---
August 20th, 2012
What a score
Congratulations to Ben Schlottman for shooting a 59 at Oak Valley!
"You shot WHAT? 59???" It was one of those dinner time phone calls. Although I was eating, I saw it was one of my kids calling. Ben Schlottman, age 16, called to let me know he shot 59 at Oak Valley. I knew he had shot 29, a career low, earlier in the day. He apparently kept the great round going on the back nine too! Congratulations to Ben for shooting what many would consider a round of a life time. As for me, I think it's the first of several rounds in the 50's. Way to go, Ben!"
---
August 20th, 2012
Keep an eye on her
Annika Winebarger - one of the state's "girls to watch" in high school golf!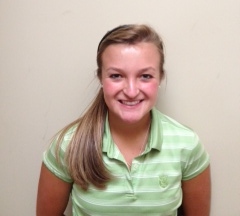 Annika Winebarger is a rising junior at Elkin High School. She has quickly become one of the state's "girls to watch" in high school golf. This month, Annika shot even par at Cedar Brook Country Club! Keep an eye on this talented young lady.
---
July 23rd, 2012
Carolinas Junior Tournament
Anne Marie would like to congratulate Philip Kelley for qualifying for the Carolinas Junior Championship. Philip showed maturity and exceptional course management.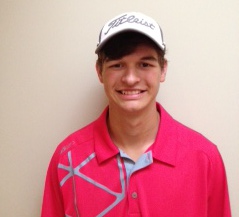 Carolina Junior Qualifying: Last hole-Philip Kelley KNOWS he needs par to advance to the Championship. Water on the left. Bunker short of the green. He has been through enough Course Management to know he should take a conservative line off the tee and then lay up. But Philip hit a great drive. He is more than tempted to go for the green in two. It's only 210 yards.He stops and thinks about it. The boy in him says, "You can hit it to the green and birdie the hole!" But the man in him follows the game plan.He lays up, sticks a wedge, takes an easy par and avoids any big numbers. Philip Kelley WON the mental battle, and qualified for the event. I could not be more proud! Way to go, Philip!!!
---
July 15th, 2012
Forsyth Junior Tournament
Anne Marie would like to recognize all her terrific juniors who played so well in the Forsyth. They are listed, according to their age group.
Justin Lang 67-74-72 1st Place.
Eric Mitchell 70-73-72 3rd Place.
Kellan Bodenheimer 76-76-74 2nd Place.
Matthew Guo 79-81-76 2nd Place.
Cassie Paulin 96-96-87 1st Place.
---
July 15th, 2012
Forsyth Junior Tournament - Champion
Anne Marie would like to congratulate Justin Lang for his dramatic win at the Forsyth Junior Championships.
Justin shot a terrific 67-74-72, to win by one. He showed nerves of steel when he made a putt on #18 to win by one. "I can't tell you how proud I am of Justin and all the kids who played so well in the Forsyth. Justin has worked so hard on his short game and mental game. He is a very talented young man." said Anne Marie.
---
July 15th, 2012
Forsyth Junior Tournament - Champion
Congratulations to Cassie Paulin who won the girls division of the Forsyth Junior with scores of 96-96-87.
---
July 15th, 2012
Forsyth Junior Tournament
Kellan Bodenheimer played like a Boss, finishing second in the Forsyth Junior with three solid rounds of 76-76-74.
---
July 7th, 2012
US Junior Amateur Championship
Ben Schlottman qualified for the US Junior Amateur Championship, shooting 69-71 at the Gaston Country Club. His four under par total earned him a tied for 2nd finish. Victor Wiggins was the low medalist, shooting 139. Of the 39 competitors, only three advanced to the finals. The scores were Victor Wiggins -5;Ben Schlottman -4;Will Long -4.The USGA Junior Championship will be in NH, at the Golf Club of New England July 16-21st. This is special for me because I played in this event when I was a kid. There is something "full circle" about coaching a kid who qualified for a tournament of this magnitude. I am very proud.
---
July 7th, 2012
2012 AAU High School State Champion
Please join me in congratulating Kendall Dunn, the 2012 AAU High School State Champion!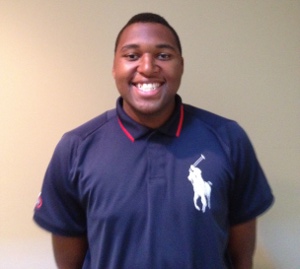 Kendall shot 70 to take the title and advance to the national competition in July in Tennessee. We will be cheering for you and hoping you bring home the hardware! Kendall Dunn is starting his freshman year at UNC Pembrook. We wish him all the best!
---
July 7th, 2012
Big I Championship
Way to go, Justin Lang, for qualifying for the Big I Championship!!! The Big I has been around since I was a junior golfer. It highlights the best competitors in the nation. Way to go, Justin, for qualifying for such a big event!
---
July 7th, 2012
Way to go Tom Kimball!
The accolades are not only for the junior golfers. In the "slightly over 50 yrs old" category, Tom Kimball, took his handicap from an 11.7 to an 8.5 in less than 6 weeks. Tom is competing in the Forsyth Amateur. I hope he continues to go low!
---
June 19th, 2012
Low Score for 2012
On a course with water and sand on most holes, Susan M. played like a champion. She shot 79 at St James Plantation Golf Course for her all time low score of 2012. Congratulations to Susan for not only playing well but beating the living heck out of her husband. Keep those scores dropping!
---
June 15th, 2012
AJGA (American Junior Golf Association) Burgett H. Mooney, Jr. Championship
Ben Schlottman played in the AJGA (American Junior Golf Association) Burgett H. Mooney, Jr. Championship in Rome, GA. Opening with a 70, Ben established an early top ten position on the score board. Day two was not as kind. He fell to 19th place with a 74. I tried to remind him that as quickly as he went down the leader board, he was quite capable of climbing UP. Rising to the challenge, Ben was the "spoiler" of the day, firing a 65, to finished tied for 3rd. This fantastic finish will grant him more access to other AJGA events in the 2012-2013 season. Congratulations, Ben Schlottman!
---
June 15th, 2012
"Big I" championship
Congratulations to Philip Kelly! Philip shot a 76 in a pressure filled situation to qualify for the "Big I" championship. It is one of the best junior tournaments in the nation. Keep an eye on this talented young man. I think you are going to see big things from him soon.
---
June 15th, 2012
Lessons learned
Sometimes, the victory is not shown on the score board. Congratulations to Kellan Bodenheimer for keeping a positive attitude. When faced with a rough day on the course, lesser golfers fold and lose their composure. Kellan kept focused, stayed with his game plan and showed he is a true champion, regardless of the score. I am very proud of how Kellan applied what he learned during his last lesson on course management.
---
April 20th, 2012
College Signings
Congratulations to Lindsey Ball who signed for a golf scholarship to Mars Hill College.
Also signing this spring was Vandalia Christian School Senior, Kendal Dunn, who signed for UNCG Pembrook.
Lindsey and Kendal join the more than 30 golfers I have worked with who have received golf scholarships. Several children are currently in the process of being recruited to Duke, Wake Forest, Georgia Tech, Stanford, NC State and UNC Greensboro.
---
March 27th, 2012
A Collection of Brags
Congratulations to John Phillips, who shot his all time career low score at Sea Trails!
Way to Go, Tanner Johnson, who made his golf team, and shot his best score yet for 18 holes!
Abby Hines had the courage to go out for her Junior Varsity Golf Team and she MADE IT!!!
Kellan B. continues to improve, shooting in the 70's in his last competitive event.
---
January 26th, 2012
Hole in One!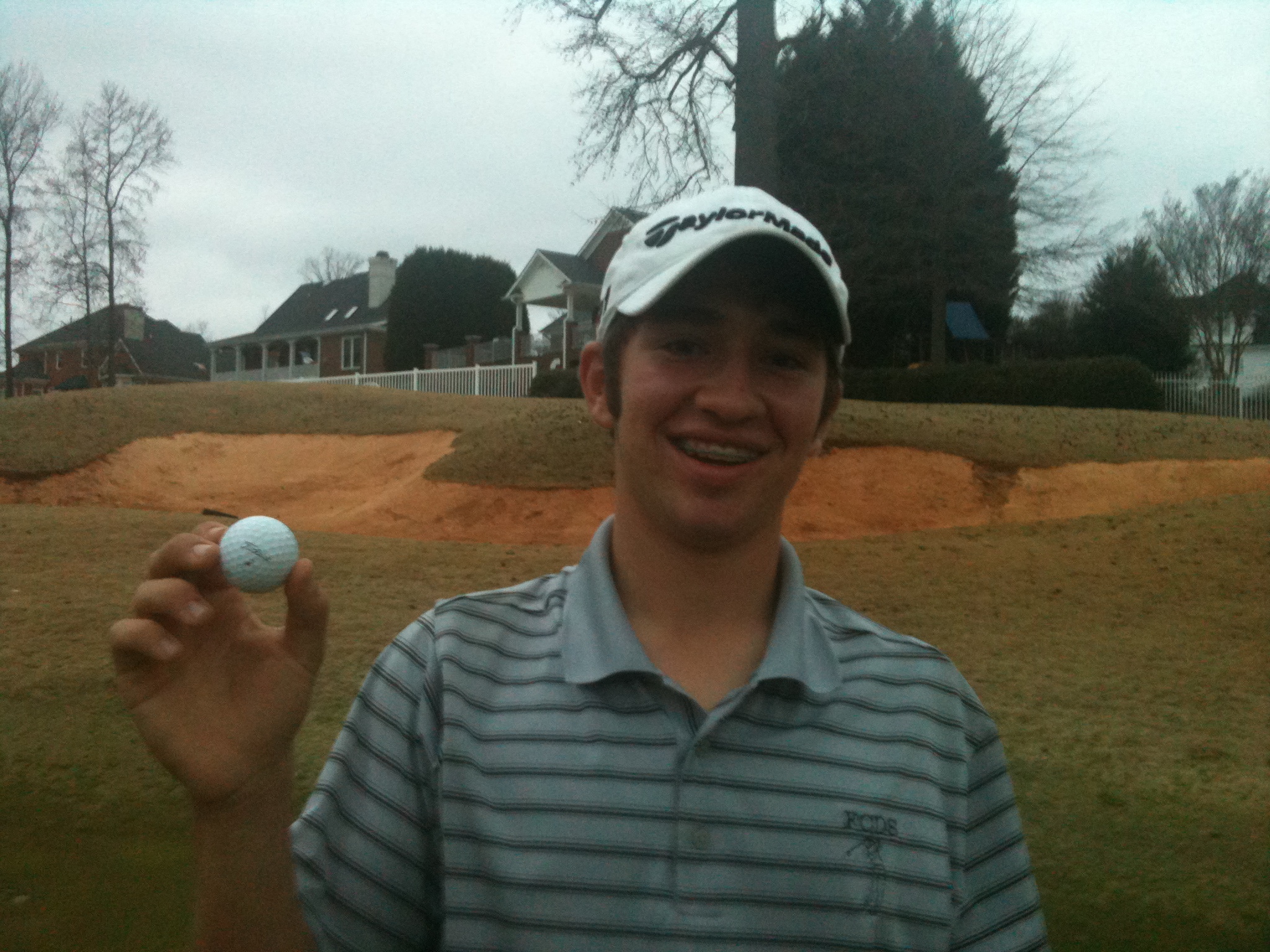 Usually, my students like to TELL me about their great shots. Tonight, I actually got to SEE "the perfect golf shot". Congratulations to Ben Schlottman, who scored his first Hole in One at Oak Valley on Thursday January 26th.
During a group lesson, surrounded by his friends, Ben hit a beautiful high fading 9 iron 142 yards to a pin, tucked back right on hole #6. The minute it left the club face, I thought, "Get in the hole!" By the time it was fully airborne, I said, "Get in!" It hit three feet long of the hole, spun back, paused on the edge of the cup, and fell in.
Some Hole in Ones are flukes, but this one was pure perfection. Ben described the exact shot he was going to hit, in detail, just before he hit it. Talk about "calling your shot!"
I consider myself blessed to have been there to witness it. Congratulations to Ben. Many, many more!"
_Anne Marie.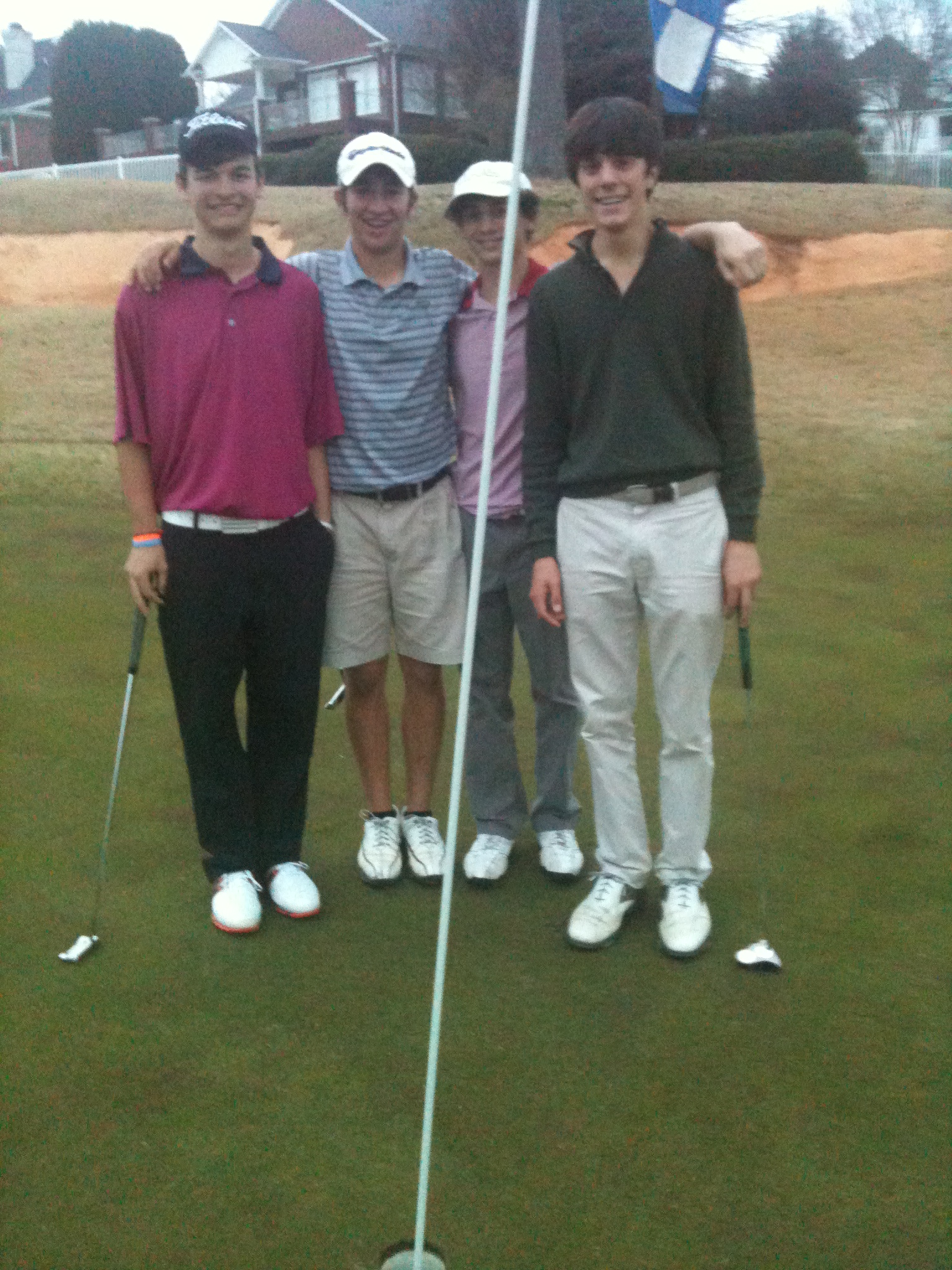 Ben and his friends witness a Hole in One.
(From L to R) Phillip Kelly, Ben Schlottman, Justin Lang, Eric Mitchell
---
November 27th, 2011
EWGA National Championships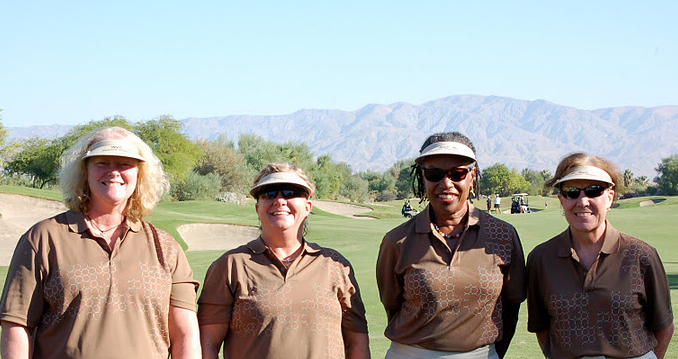 My scramble team made it to Executive Women's Golf Association National Championships, the biggest women's golf tournament in the country. Anne Marie took time out of her schedule to customize a clinic specifically for our team. We learned so much about how to play golf in the desert, in preparation for our big event.
Although we did not win, we had a great time and scored better thanks to Anne Marie. _Sherry B. Winston-Salem, NC
---
Aug 13th, 2011
Having Fun in Arizona
Sarah and her husband Dave, enjoyed their first golf vacation in Arizona last month. "It was the first time I got to spend quality time with my husband on the golf course.
Usually, I go shopping or have to hang out at the pool until he comes back. It was a great time. Thanks for helping me to enjoy the game more." _Sara K. Greensboro, NC
---