This was Anne Marie's FAVORITE practice aid, from the 2018 PGA Show!
The Impact Improver is easy to use, fun to try and is perfect for indoor practice or out in the yard.
The company is extending a SPECIAL 25% off rate for Anne Marie's students!
Use Discount Code: Goslak. Order it. Use it. Improve. It's that simple.
Click here or on the logo to go to their website.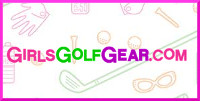 To purchase the latest LPGA-USGA Girls Golf Apparel, click on the image above.
Below are products that Anne Marie not only recommends but uses herself...
Take some time and explore Anne Marie's favorites.
I grew up, playing amateur and professional golf with the founder of Rain Girl Inc, Kathy Nyman. She has a fantastic story!
Kathy was playing golf in FL when it began to rain. It was far too hot to put on rain pants. And besides, how does one put on rain pants when wearing a golf skirt? After the tournament, Kathy searched the rain gear market for someone who could make a rain skirt. When she could not find what she was looking for, she designed her own! The rest is history.
Kathy now runs Rain Girl, Inc., a company designed to provide women and juniors the best possible rain gear. I love my Rain Girl outer gear! Check out her web site. You'll be glad you did!
Terry Koehler Founder/CEO of Scor Golf said... Over the past couple of months, I have become completely unable to make short putts. Anything under ten feet and I go epileptic. The shorter the putt, the worse it is. I know that the yips begin by having your fundamentals so sour . . . then you miss a few . . . then you lose your confidence . . . then you can't make any. I purchased the STAR and I took it to the practice green Tuesday afternoon. I set it up at a straight putt of four feet and proceeded to make 90 in a row!!! I was blown away!
Click here for video.
For more info or to purchase, click here or on the image.