Anne Marie offers a variety of lesson options for every skill level and budget.

You can now book your lessons online in just a few easy clicks. Schedule your lesson today.

Don't have time for a long lesson? Try our remote video lessons today.

We invite you to come to one of the many clinics offered throughout the year.

Give the gift of golf for that someone in your life looking to improve their game.

Share your golfing highlights with us.

View a small collection of Anne Marie's articles.

View a collection of Etiquette and Rules videos.


To purchase the latest LPGA-USGA Girls Golf Apparel, click on the image above.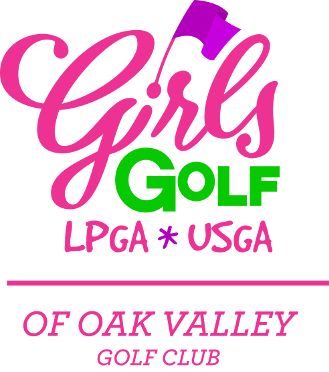 Join the 2017 National LPGA-USGA Girls Golf Club!
Click HERE for more details!.
Our mission is to empower and inspire girls through golf.

It's our goal that every girl who comes in contact with our program will always feel IMPORTANT, APPRECIATED, RESPECTED, SUPPORTED and SAFE.

At Oak Valley Golf Club We are Offering:

Spring Classes: March 19th, 26th, April 2nd, 9th, 23rd and 30th. (NO class on Easter)
Fall Classes: Sept 10th, 17th, 24th, Oct 1st, 8th, 15th.
Two Hour SUMMER Golf Clinics: Each class is 9:30am-11:30am

Tuesday, June 27th- Short Game Basics: Putting and Fringe Shots
Tuesday, July 11th- Full Swing Irons
Friday , July 21st- Short Game Pitch Shots
Friday, July 28th- Full Swing Woods
For a printable version of the schedule: Click Here
When:Six week classes Sunday afternoons. 2pm until 3pm. Cost $160 per student, includes 6 hours of instruction, range balls and course access if applicable. Golf clubs can be provided upon request.
Spring Classes:March 19th, 26th, April 2nd, 9th, 23rd, and 30th.
Fall Classes:September 10th, 17th, 24th, Oct 1st, 8th and 15th.
Summer Clinic Dates:TBA.

For questions or to reserve your place in class, contact Anne Marie at 336-345-4633 or AMGoslak@aol.com